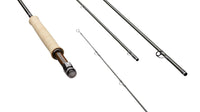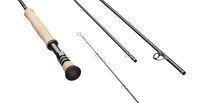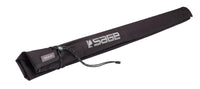 Sage R8 Core
R8 CORE is a rod family that focuses on maximum versatility and incorporates new breakthrough material technology.   R8 CORE is a direct descendant of Sage's multi-application vision, which has been formed by the evolution of fishing all around us—from the habitats we stalk and the seas we frequent, to the flies we fish and the range of species we now target. There's a model to satisfy the essential demands of every freshwater angler, with a range of weights from 3wt to 9wt and lengths ranging from 8'6" to 10'0".
Technology
We can now build a rod with a stiffer, stronger backbone but a more sensitive tip and more connected feel thanks to the sophisticated, cutting-edge material used in R8. It's a two-pronged strategy. First, a proprietary aerospace composite with higher hoop strength allows us to dimensionally grow taper diameter faster from the tip. Next, a nano-sintered resin application increases axial resilience and allows us to pack more fiber into the blank, resulting in a true two-way connection from hand to fly and back for improved feel, flow, and control.
R8 Features
- Revolution 8 Technology
- Color: Silver Pine (blank)
- Slate primary thread wraps with White and Grey graduated trim
- Hard chromed snake guides and tip-top Fuji ceramic stripper guides
- Slide band with laser engraved line weight
- New quick-tie cord lock on black rod bag for faster, easier, and cleaner storage
- Sage medallion on an aluminum rod tube

3WT - 6WT 

- Snub-nose half-wells cork handle of premium Flor grade
- Anodized metal up-locking reel seat with a sustainable Ziricote wood insert

5WT - 9WT
 - Full-wells premium Flor cork handle with cork/EVA fighting butt
- Up-locking reel seat made of gunmetal anodized aluminum
- Reel seat has a built-in hidden hook keeper.