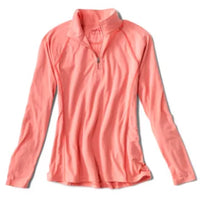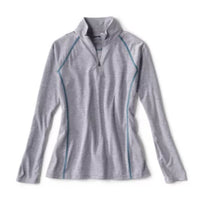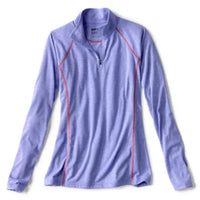 Orvis Women's Dri-Release Quarter Zip Tee
The Orvis Women's Long-Sleeved Quarter-Zip Tee features moisture-wicking drirelease, a  favorite for anglers, hikers, runners, avid travelers, and everyone who loves to spend time outdoors. It dries four times faster than cotton and wicks perspiration away from your skin so you never feel sticky or wet. All-natural and permanent odor protection means you can wear it more than once before washing and still smell fresh and clean. It has raglan sleeves for complete freedom of movement when casting. Princess seams and contrast stitching make the most of your figure. 
Polyester/cotton. Washable. Imported.
Sizes XS(4), S(6-8), M(10-12), L(14-16), XL(18-20); about 25" long.
Feels as soft and comfy as cotton but dries four times faster
Wicks moisture to the surface of the fabric where it evaporates
Lightweight and breathable to keep you cool
Built-in odor protection keeps you feeling fresh longer
Wear as an active tee in warm weather, as a base layer when the temperatures dip