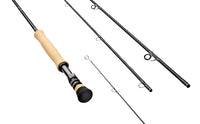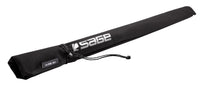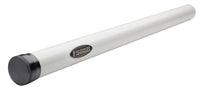 Sage Salt R8
Although things move more slowly in saltwater environments, the fishing is faster, the pressure is greater, and the factors are more unpredictable. It's a new game with a different set of rules in settings that span from tournaments and Grand Slam flats to renowned bonefish lodges and quiet redfish beaches. These factors include wind, weather, and tides in addition to skittish fish, seasonal migrations, and salty guides. In sight fishing, there are fewer opportunities, larger stakes, and seconds count. However, saltwater sight fisheries require a different tool than what works for your typical trout stream since they require more than simply the ability to deliver a fly when needed.
A sweet spot that is easier to feel intuitively in a rod that loads swiftly and predictably.
Giving more power to land fish more quickly and better dexterity for accurate short shots. A stronger rod that is made to withstand long skiff trips and remote locations, where broken rods are heartbreakingly tragic. And a finely tuned taper that will guarantee that your fly is presented at the proper time and location.

The majority of salt rods are constructed for maximum strength and pure power, which is standard practice for the location and the discipline. The basic task of increasing strength-per-weight by 25% with our new R8 graphite was made easier by material progress, but it also improved the fight in the rod even down to our six-weight. Without the need to add more material, fillers, or reinforcement, we increased the pulling force in its pure form. The result is straightforward: it allows for quicker landing times and lessens pressure from catch-and-release fishing on ecosystems that are already under extreme stress.

A clear improvement was more power and fight, but few salt rods—especially those with greater weights—achieve the feel needed for precise presentations and exquisite touch shots.
It required longer to shape a taper that included this more significant touch.
However, after spending a considerable amount of time in the region that gave rise to saltwater fly fishing and working closely with the knowledgeable local guides, our rod designers discovered the ideal profile and fiber alignment that provided strength, a fine touch presentation, and a more intuitive sweet spot to a class of rods that had a longstanding reputation for being cumbersome, unforgiving, and challenging.
The days of giving up feel and touch in your saltwater rod are over thanks to the SALT R8.
• 25% Greater Strength Per Rod - Greater Pulling power equals more fight for faster landing and less stress on delicate ecosystems
• Enhanced Durability - Enhanced toughness withstands more rugged situations and demands of remote travel
• More Intuitive Sweet Spot - Prioritizes touch and speed for shorter shots and
on-demand casts
• Saltwater Specific Guide Set - Titanium Fuji K-guides resist corrosion, while angled shape prevents snags and tangling in the chaos of the fight. Oversized chrome snake guides and tip-top allow larger saltwater knots to pass with ease.
• Heavy-Duty Reel Seat - Built for enhanced contact and confidence, heavy-duty reel seat and oversized locking rings keep reel tight to the rod for greater contact, rigidity, and a more direct connection when fighting powerful high-stakes fish